Home Page with images on MRU list and improved toolbar and left panel
Images on Most Recently Used (MRU) Entities and Relationships
When you select an entity or relationship to add to the Visualizer or view its details, it is added to the MRU list. The list is prominently displayed on the Home page and search forms to easily perform actions on your most frequently accessed items.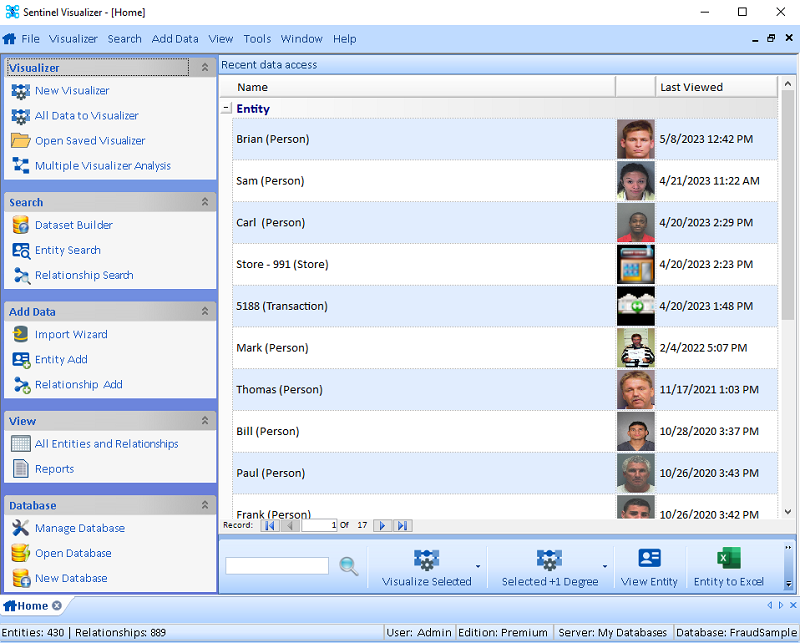 In version 10, a picture is displayed for each entity using its picture or its entity type icon. Relationships show the FROM and TO images of the entities in the relationship. This makes it easier to identify the entities and relationships.

---
Toolbar
The toolbar at the bottom lets you perform actions on your selected MRU items.

Type a few letters in the new filter feature to reduce the MRU list by their names.
Visualize Selected
[Visualize Selected] sends the selected items to the Visualizer.
If you select more than one entity, there is an option to also include the relationships between them.
---
Selected + 1 Degree
[Selected + 1 Degree] lets you send the selected items to the Visualizer and add their connections to other entities (one degree links). Includes the new Directional links.
[All] adds all linked entities plus links among the linked entities.
[Only Direct Links] only adds the linked entities without links among them.
[Only FROM Entity] only adds entities with relationships FROM the selected entities.
[Only TO Entity] only adds the entities with relationships TO the selected entities.