Each saved Visualizer for an incident may contain thousands of entities (devices, people, license plates, RFID tags, etc.). Sentinel Visualizer performs Multi-Visualizer Analysis to quickly identify entities that appear across them.
Compared to the raw data, this is usually a tiny list of suspects that is highly actionable intelligence. Cell phones or license plates at multiple crime scenes that are separated by time and geography are very suspicious. These are high priority targets to invest your limited budget and time for deeper investigations. It should also satisfy the privacy concerns raised by the courts while improving your efficiency.
For instance, by selecting five saved Visualizers of similar arsons or assaults in different locations/times, Sentinel Visualizer's multi-Visualizer analysis quickly generates the list of entities that appeared in all or several of them.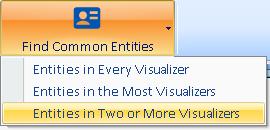 Options for Finding Common Entities among the selected Visualizers

Example of Phone Numbers among the selected Visualizers