Sentinel Visualizer provides complete support for Geospatial Analysis and Visualization. Our Geospatial tools are directly integrated into the product, removing the need for separate installations or software licenses.

PDF Brochure
Integration with Google Earth
If you have Google Earth installed, we also integrate with Google Earth to let you pin locations, display links between them, and integrate with the timeline to let you filter by time periods directly within Google Earth.
Complete Control
Sentinel Visualizer Geospatial Tools provide complete control over map appearance. Choose raster or color/grayscale vector modes. You can toggle cities and regions on and off with the click of a button. Full zoom and pan support is built in. And because we use ESRI compatible shape files, you are assured of future growth potential.
Automatically Locate Entity Data
Any data that you show on the Link Analysis view is automatically shown on the Geospatial View. This makes it easy to see the geographical disposition of your entity records and adds a whole new element of understanding to data.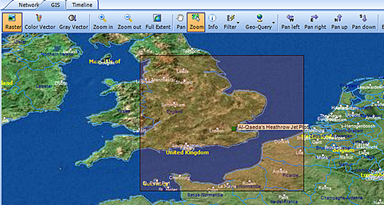 Geo Filter and Geo Query
Use the Geo Filter tool to filter data outside the geographical area you select. Use the Geo Query tool to find all data that resides in a specific area. With Sentinel Visualizer Geospatial Tools, filtering and querying data is as easy as drawing a circle.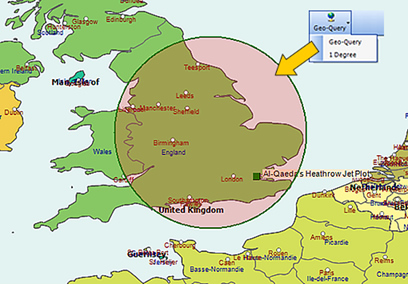 Multiple Views
You can use the Geospatial View in conjunction with any of the other views. Simultaneously see your link chart, the geospatial view, and timeline data, all in one display, or split across multiple displays in a multi-monitor configuration.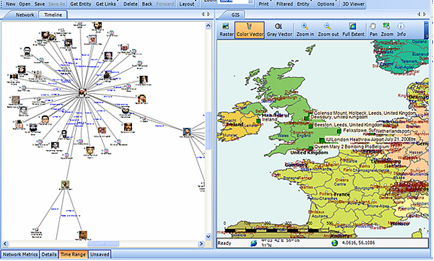 View Underlying Data
You can configure the Geospatial View to show tool tip data in either basic or extended mode. Simply hold the mouse cursor over a location and information about that point is displayed. You can also click on an entity data in the map and pull up detailed knowledgebase information screens.